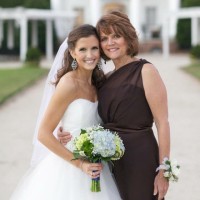 Your wedding is YOUR day. You have been planning this your whole life. So has your mother.
My sister, but mostly my mother, is currently planning their wedding in Charleston. (Mom, this is said with love.) Don't let your mother take over, but please, let her help.
This is also coming from someone that just met a lady that planned and executed every detail of her wedding. If the planning of, and day of, your wedding feels like work, you will wish you had enjoyed it more.
Let someone help. Planners, friends, mothers; let someone help. Just make sure you are getting what YOU want. Establish boundaries. Organize a plan. Delegate.
My sister has done an amazing job at this. There are some details she and her fiancé are passionate about. These things, they will decide. There are details they are indifferent about. That would be left to my mother. Then there are the flowers… I will decide that. Sorry Sis.
Get help. Have fun. You are planning YOUR wedding.